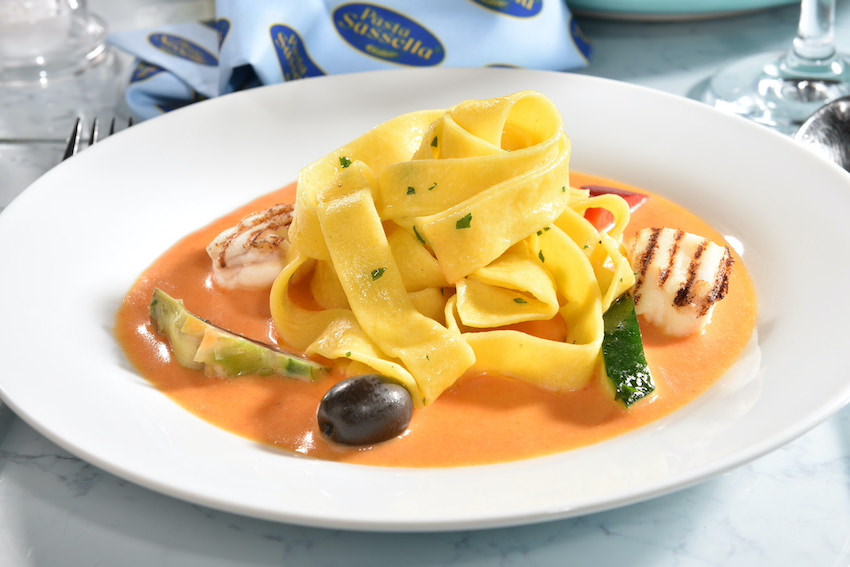 Each ingredient counts!
For the real taste: The eggs come from our homeland Lombardy (Italy).
For the beautiful colour: The ingredients, such as spinach, tomatoes, peppers or squid ink, are of the highest quality.
For longer standing times: Thanks to the use of high-quality, coarsely ground durum wheat semolina, the Sassella pasta remains "al dente" for a particularly long time.
- TAGLIARINI -
Popular, colourful and delicious. Our 4 mm wide bestseller comes in natural, green, red, black and with basil. The variants are coloured with spinach, tomatoes, peppers or squid powder and give the pasta a beautiful colour.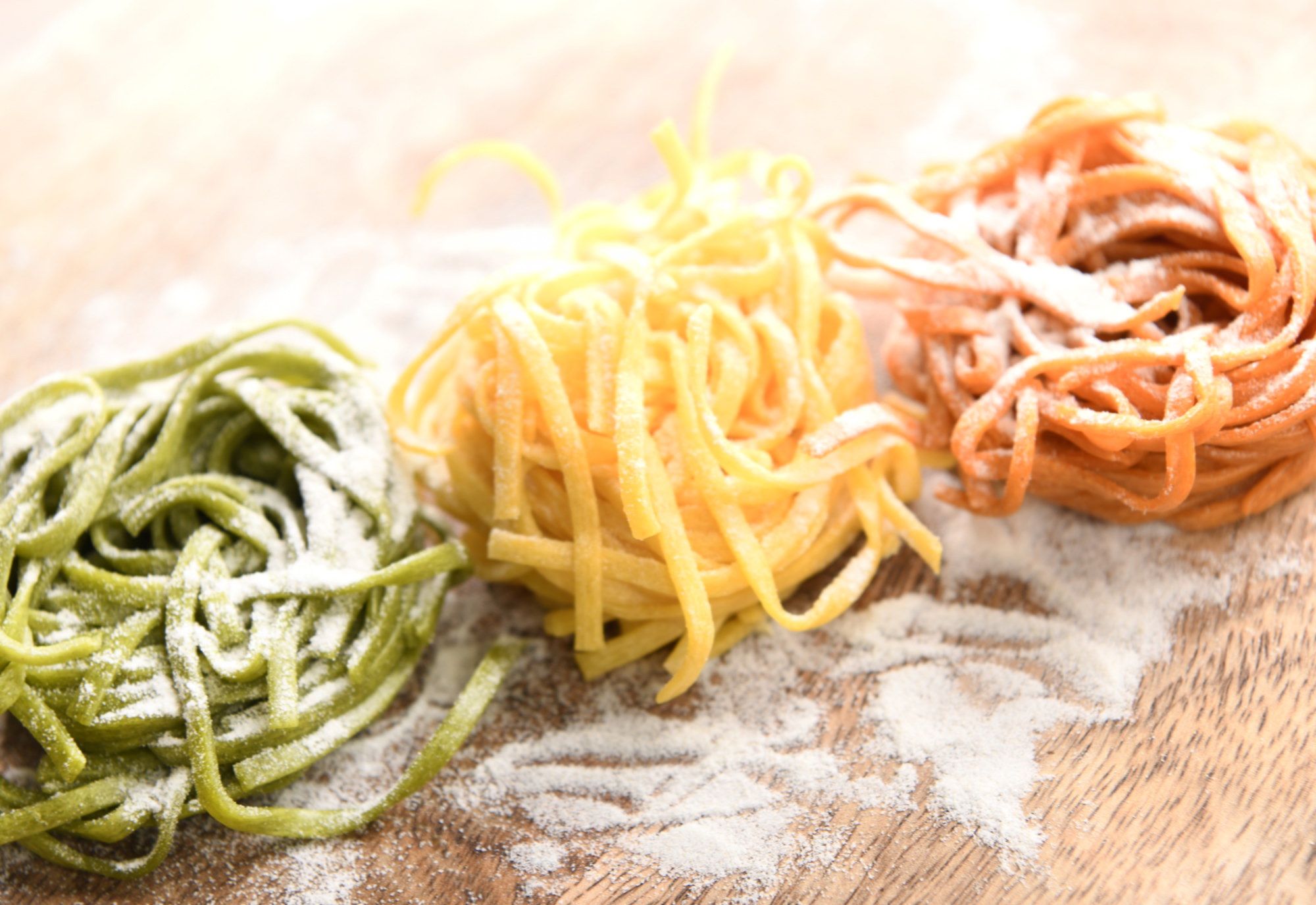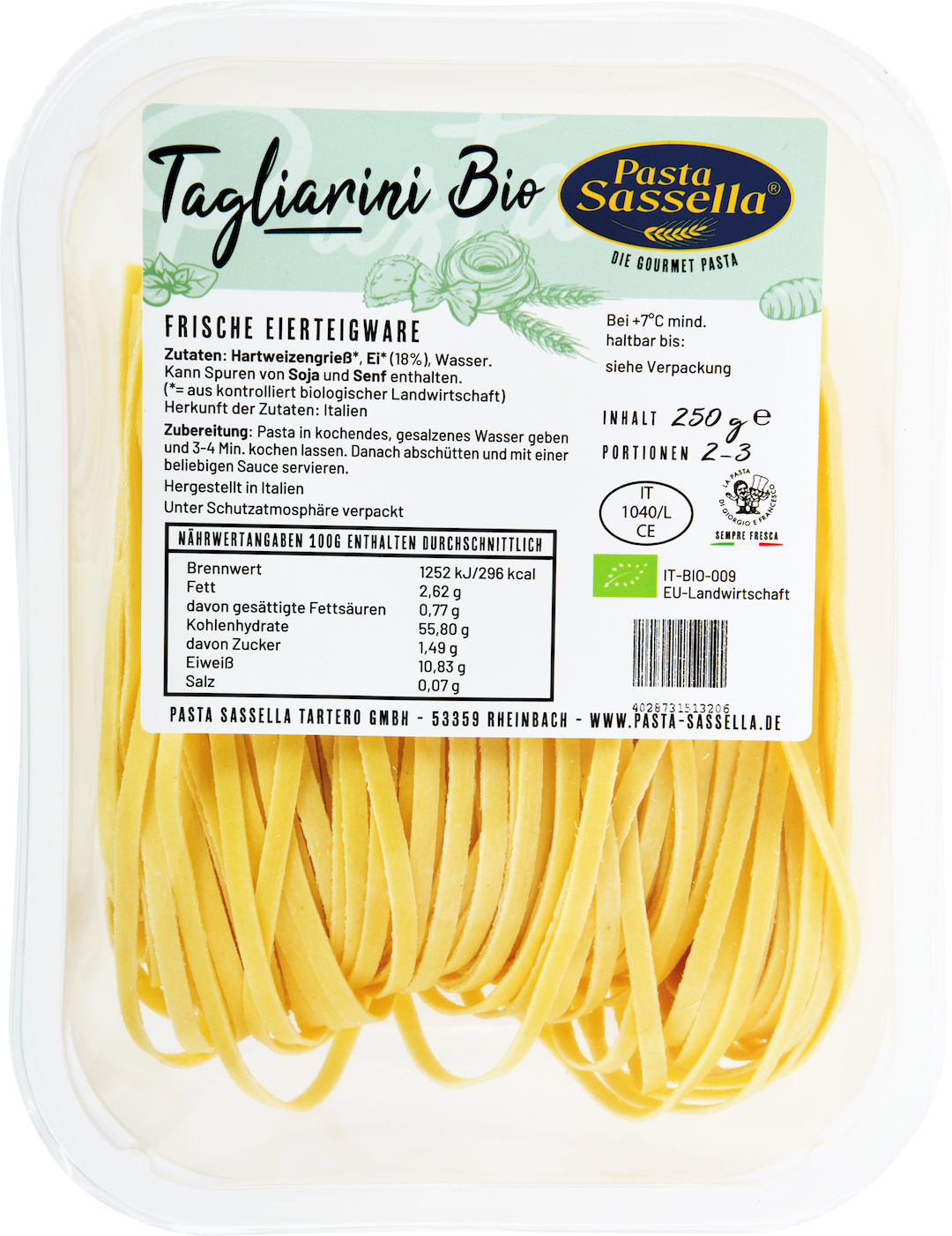 Tagliarini BIO
For our organic pasta, we use only the best organic durum wheat semolina from controlled organic cultivation and the highest quality organic eggs. Natural enjoyment and excellent taste combine in this pasta, which we bring fresh to your table. Naturally without preservatives, flavour enhancers or artificial flavours. The Tagliarini BIO taste great with a fruity tomato sauce, fresh mushrooms or in combination with lots of herbs.
Item no.
Bundle
Bundles/
Carton
51320
250 g
12
Product details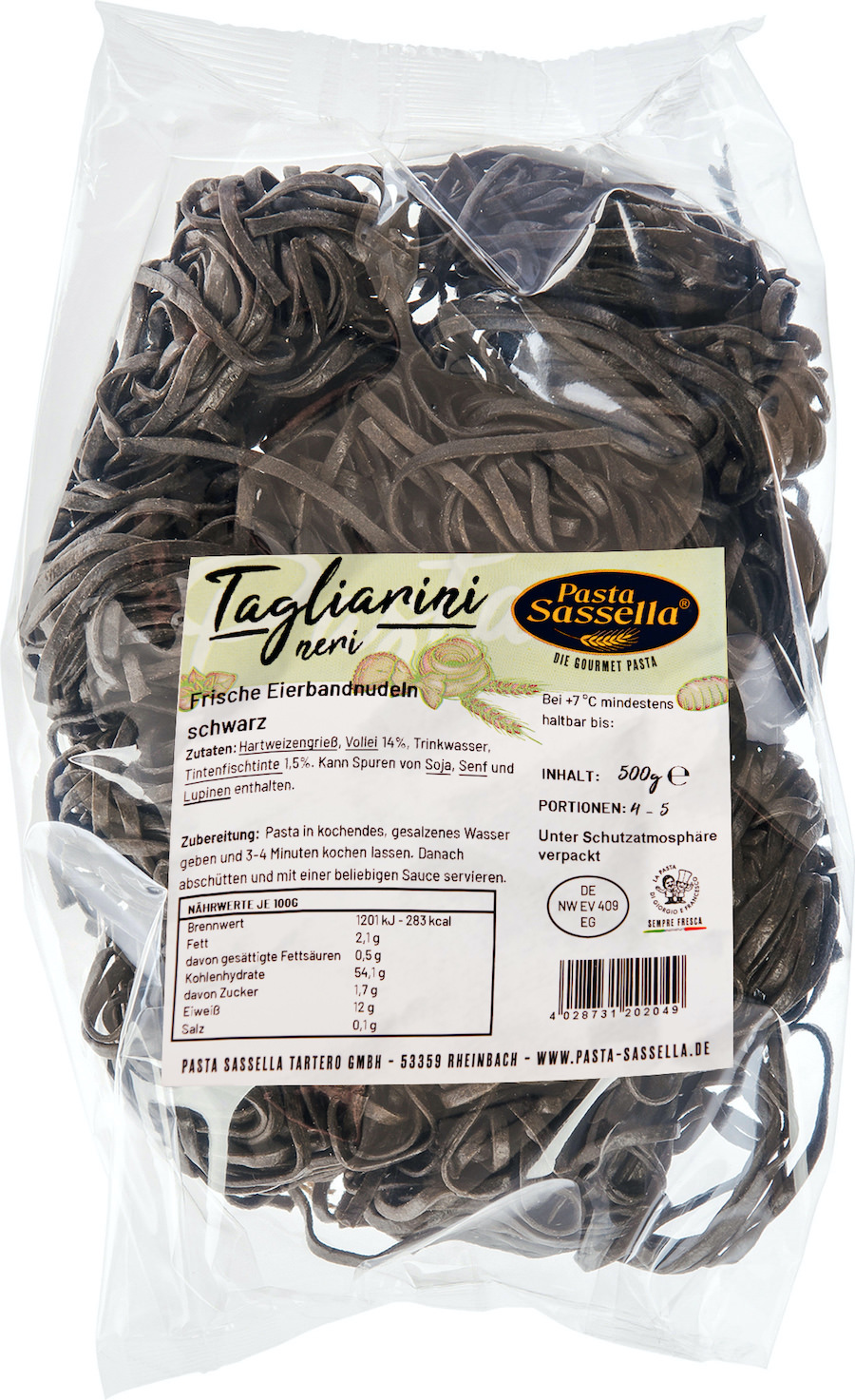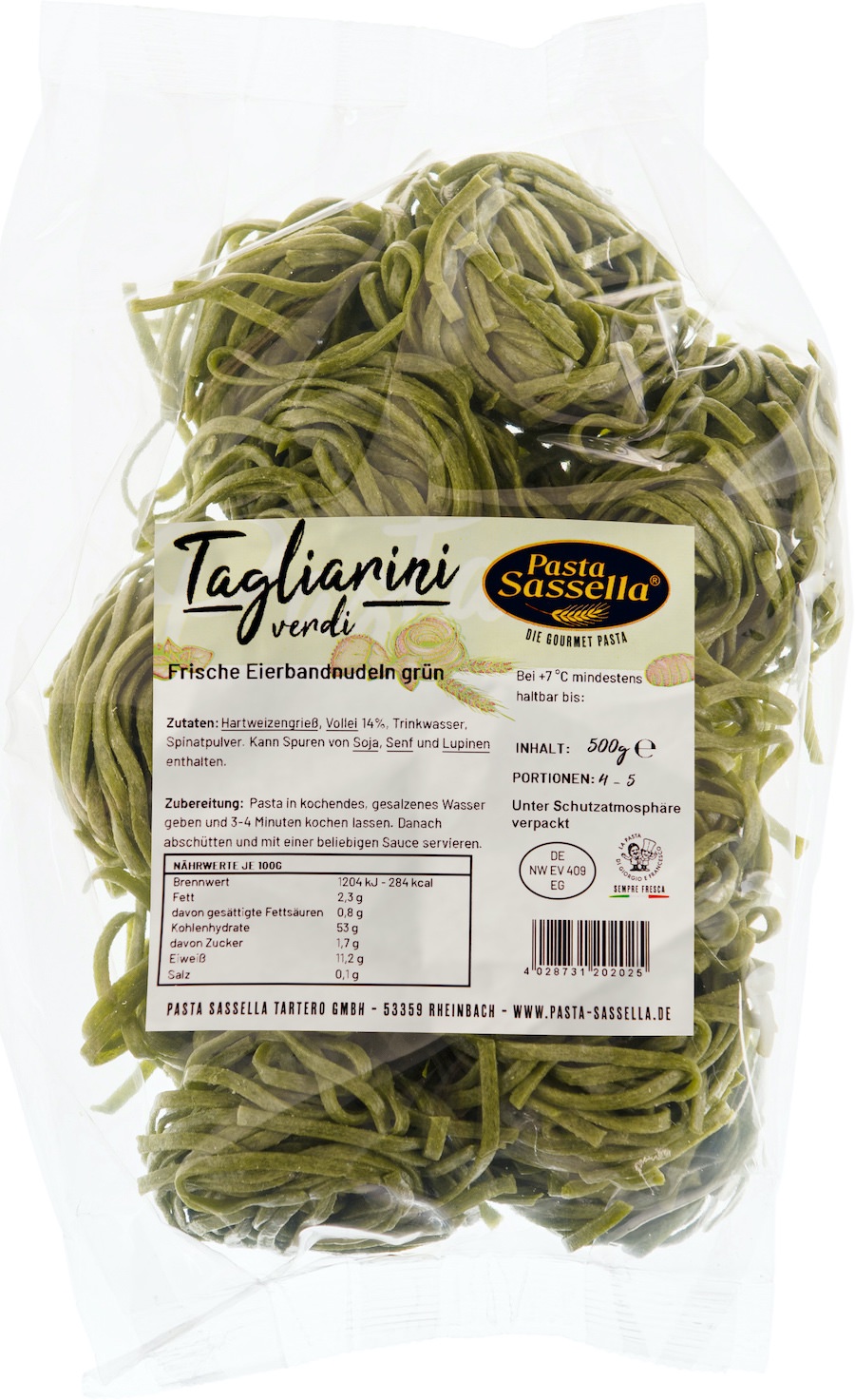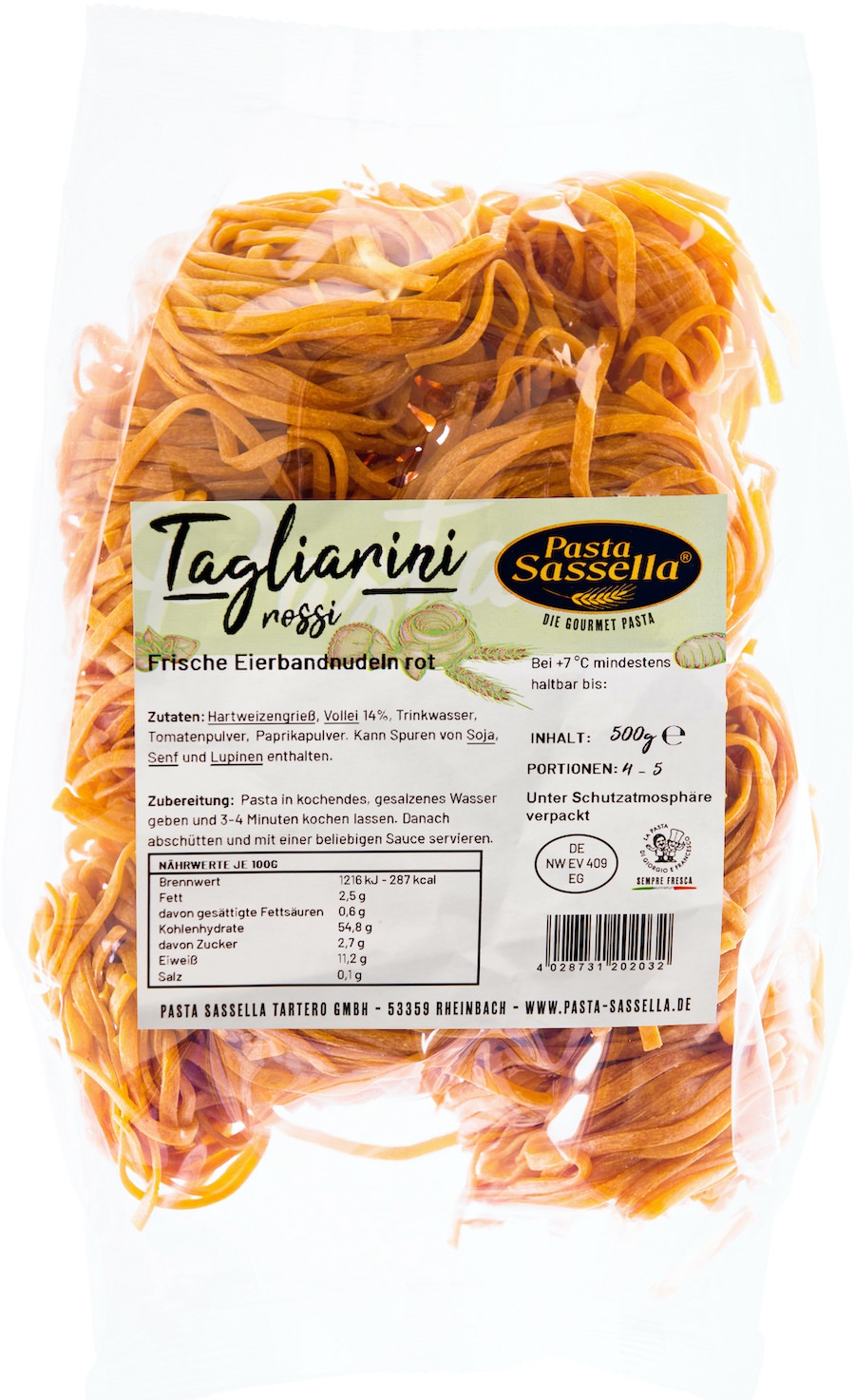 FETTUCCINE (TAGLIATELLE)
Fresh egg ribbon pasta, 6 mm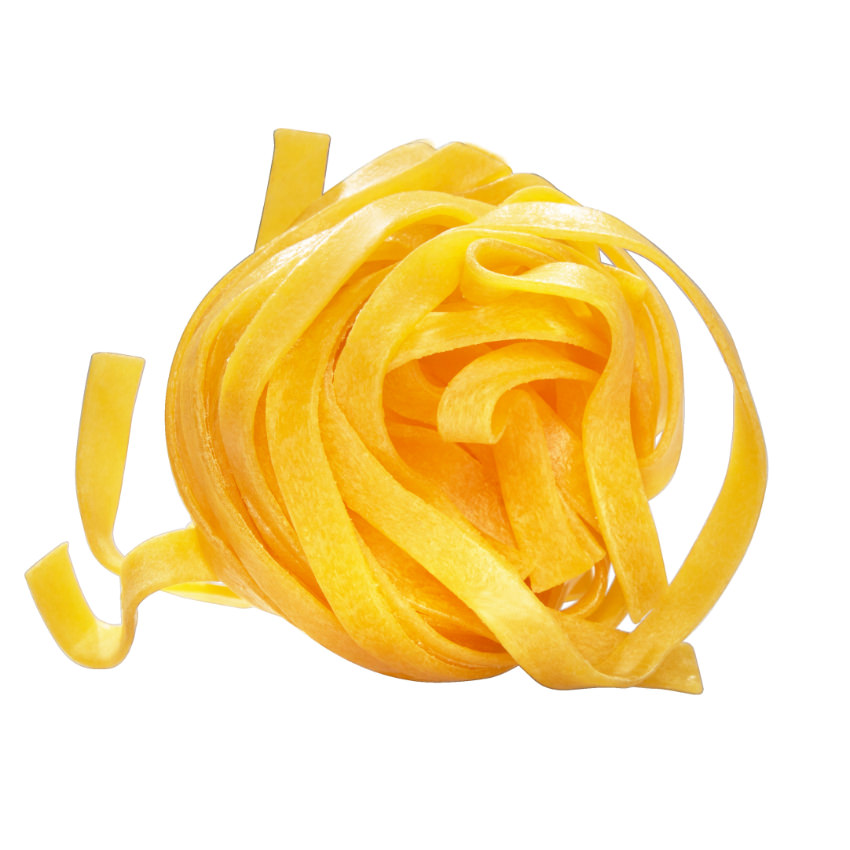 FETTUCCINE VERDI (TAGLIATELLE)
Fresh egg ribbon pasta green, 6 mm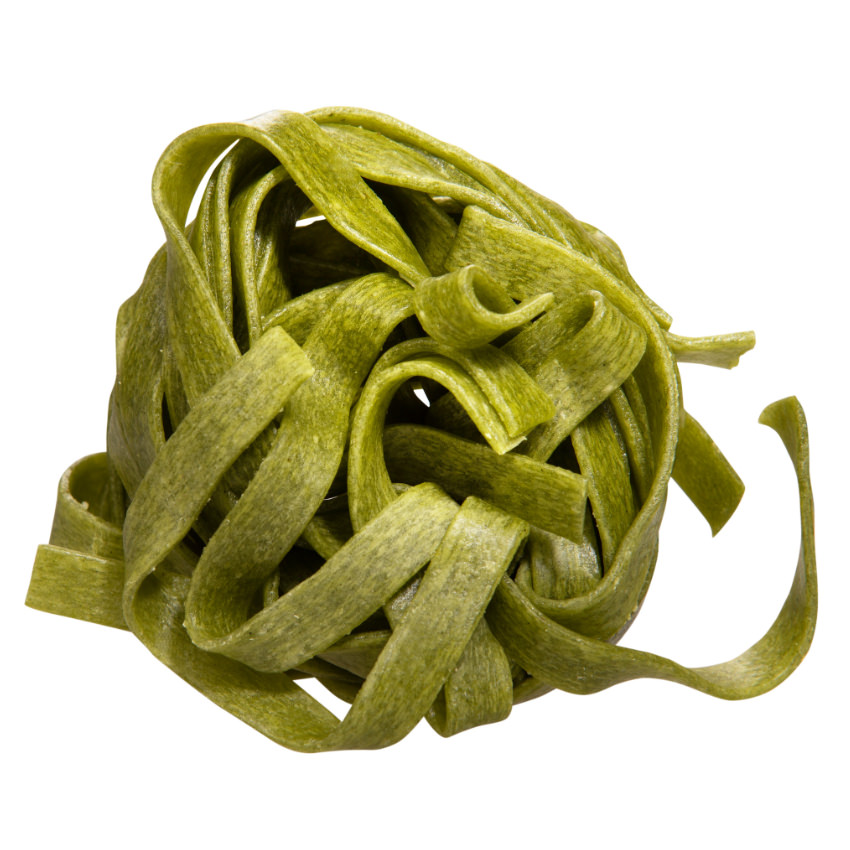 SPAGHETTINI
Fresh egg ribbon pasta, 2 mm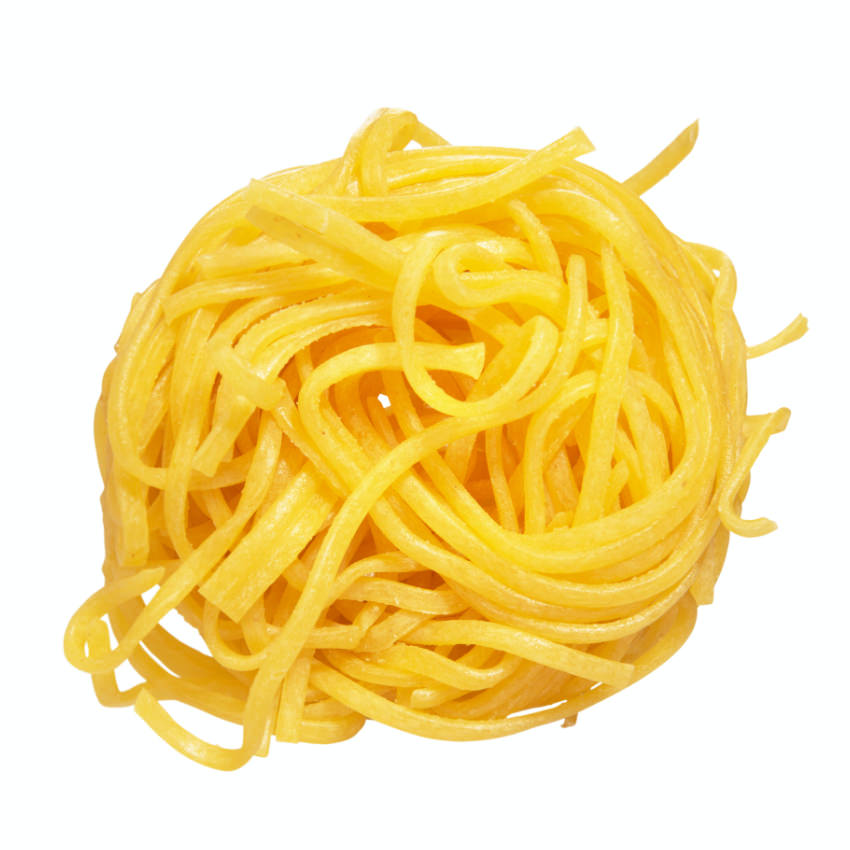 REGINETTE
Fresh egg ribbon pasta, 10 mm
PAPPARDELLE
Fresh egg ribbon pasta, 18 mm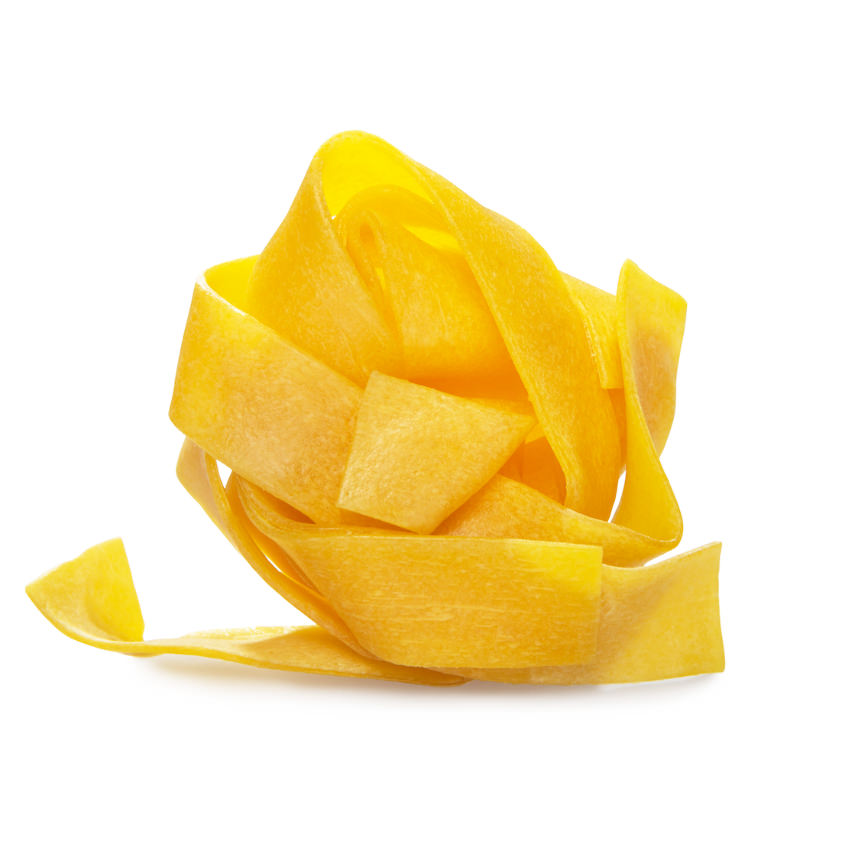 MACCHERONI
Fresh egg noodles (tube shape)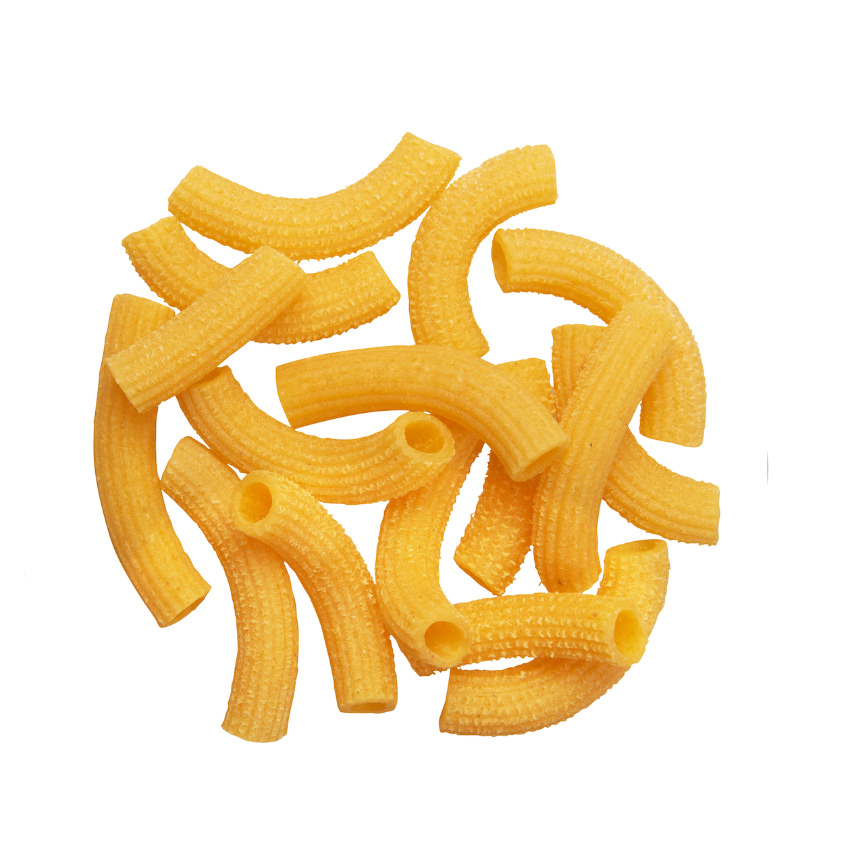 LASAGNE
Fresh egg pastry sheets, 12.5 x 23 cm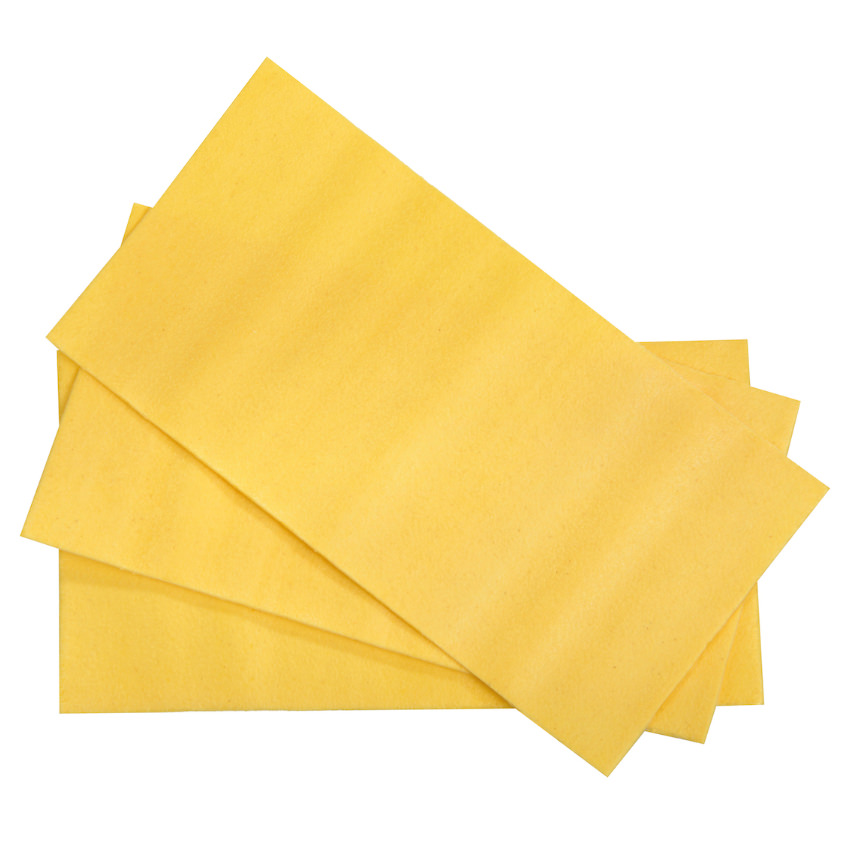 FUSILLONI
Fresh egg noodles (spiral shape)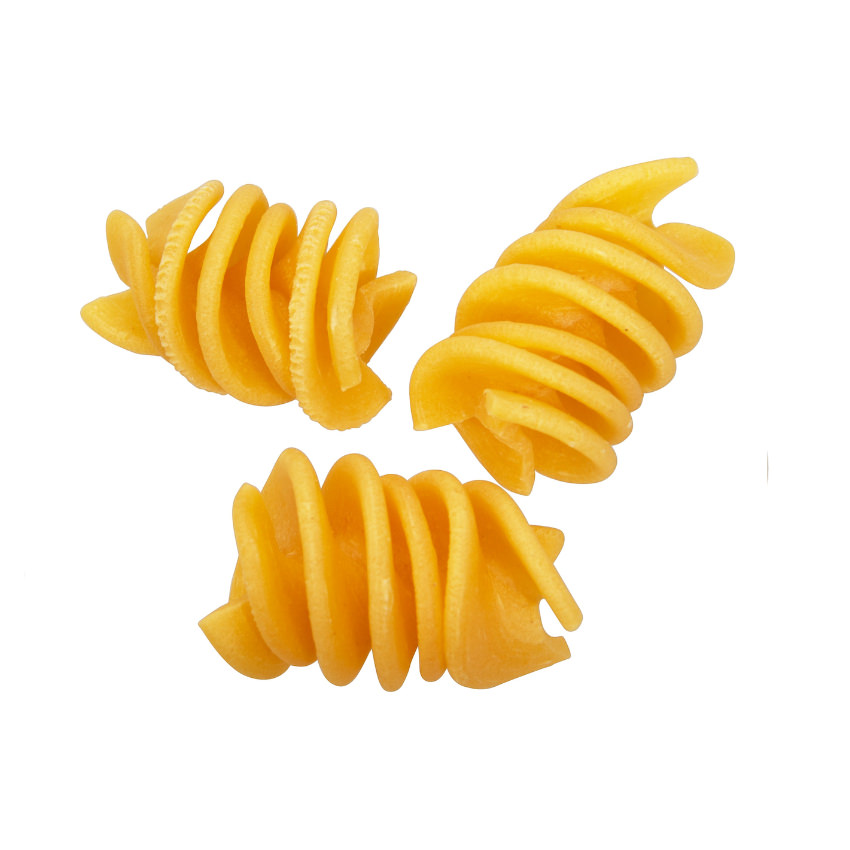 FUSILLONI TRICOLORE
Fresh egg noodles coloured (spiral shape)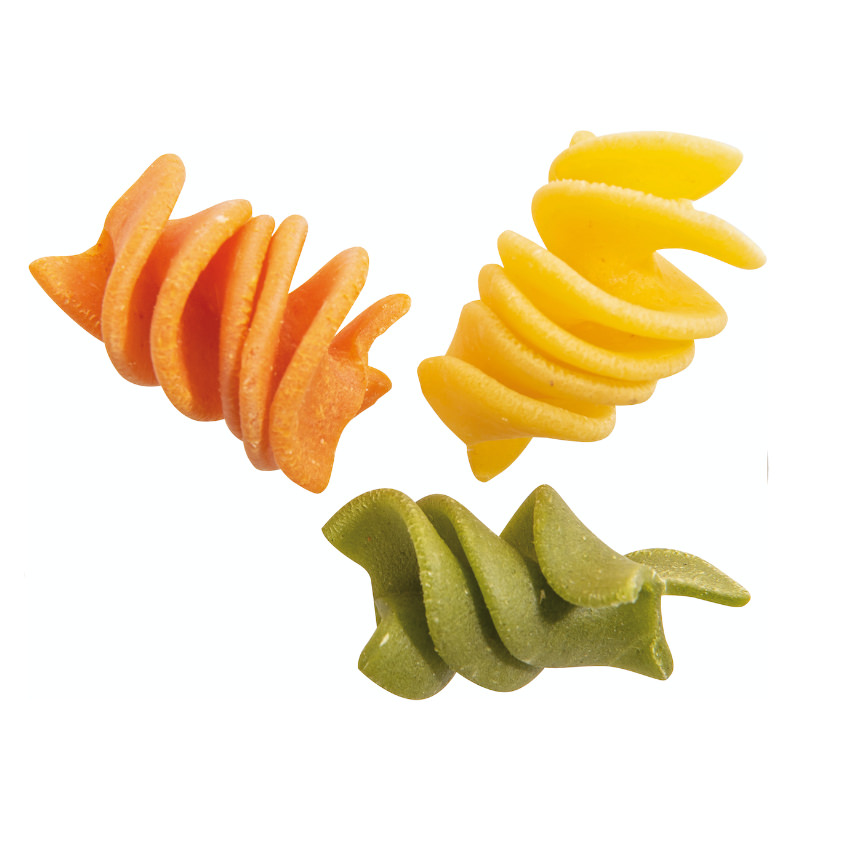 GARGANELLI
Fresh egg noodles (tube shape)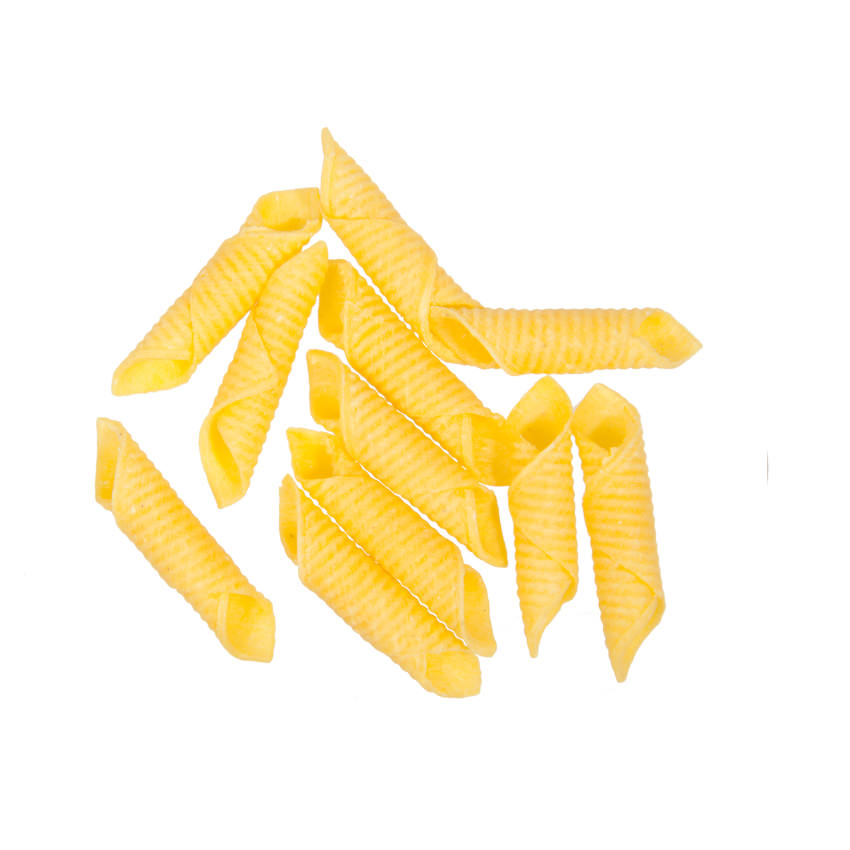 FARFALLE
Fresh egg noodles (butterfly shape)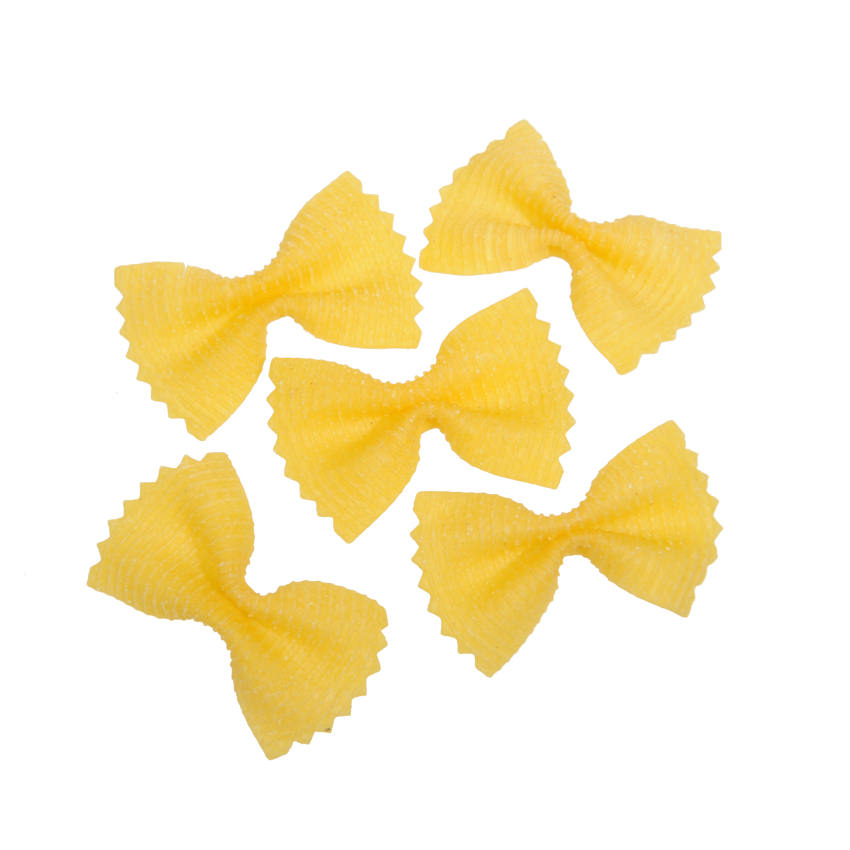 GNOCCHETTI SARDI
Fresh egg noodles (shell shape)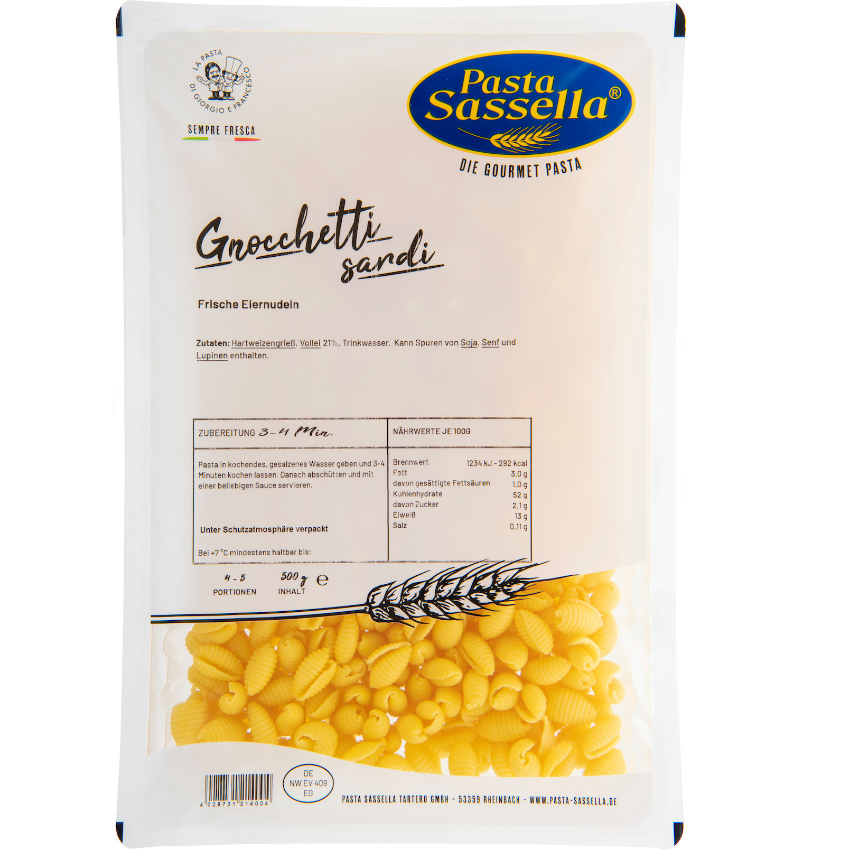 Fresh egg noodles, filled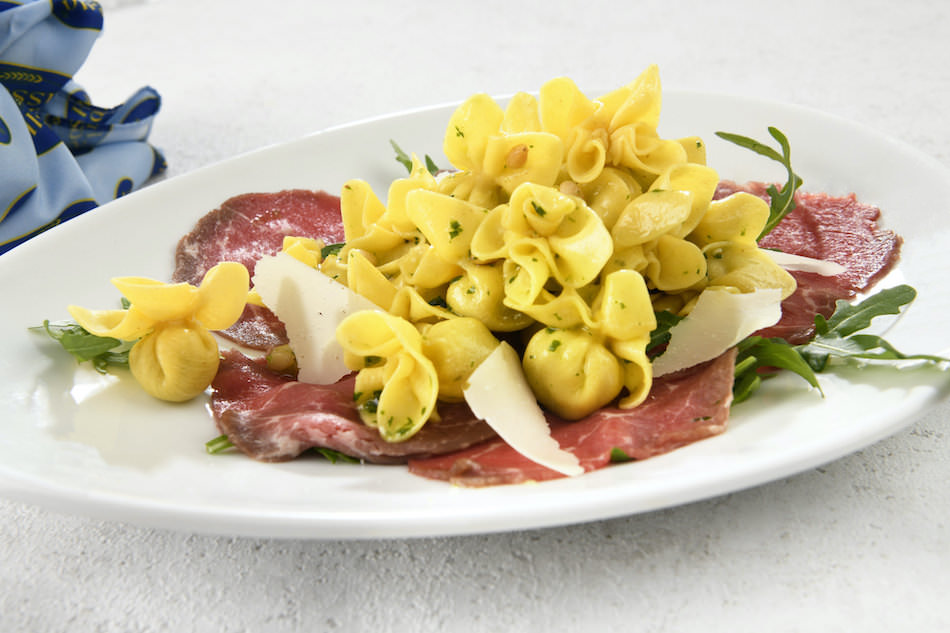 Perfect for the centre of the plate!
Our filled pasta specialities are a quick way to prepare a tasty dish. The delicious fillings are made with a choice of meat, fish, mushrooms or vegetables.
Specialities without eggs
Regional pasta
In many regions of Italy, pasta is made without eggs. We are also lovers of this special kitchen tradition - you will find egg-free products in our range. Pasta, traditionally made in the region.
Delicious taste is possible without gluten
RAVIOLI RICOTTA E SPINACI
In this filled ravioli with fresh eggs, we show how perfectly ricotta and spinach complement each other. And not only in taste. This gluten-free variation proves that pasta also tastes good without gluten!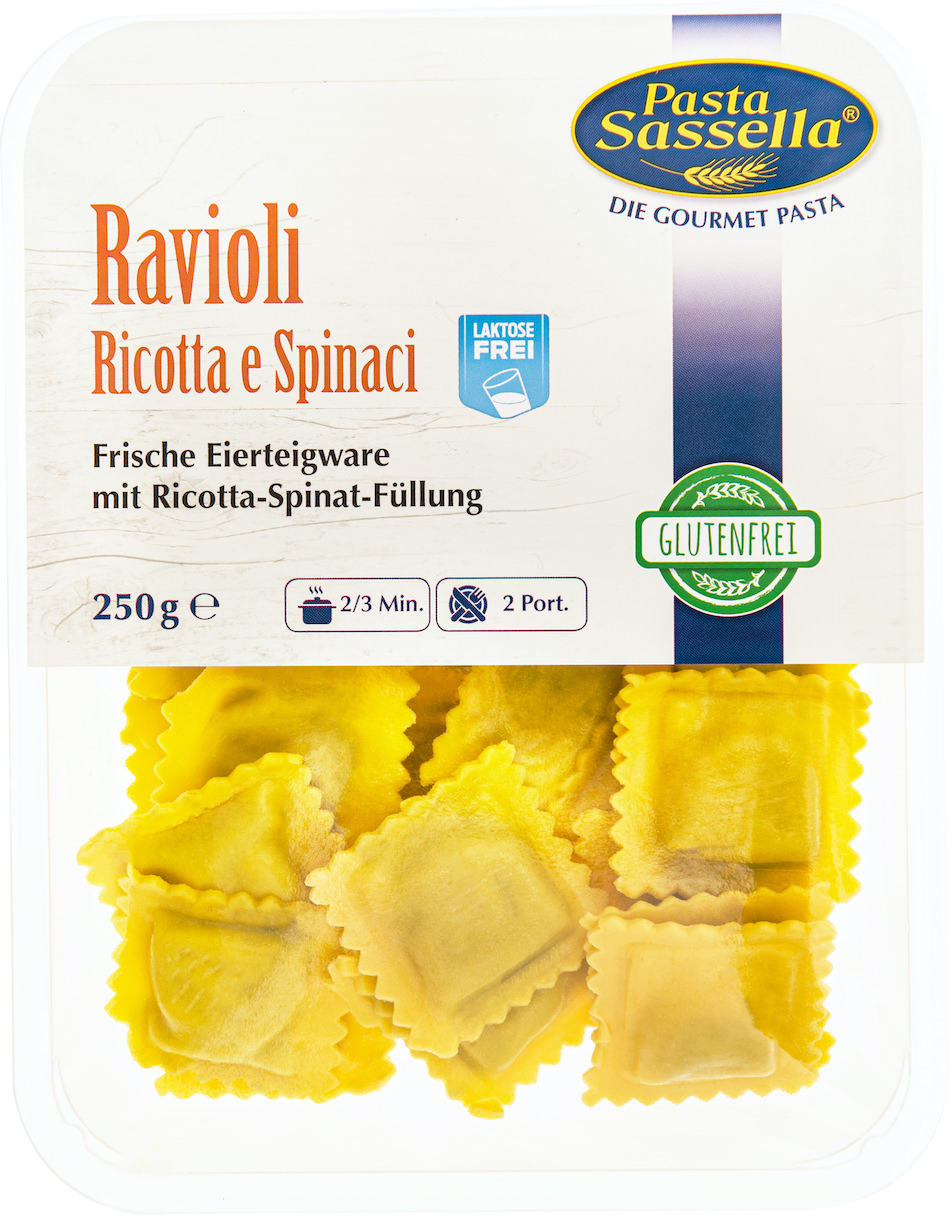 Item no.
Packing unit
51350
7 x 250 g = 1,75 kg in carton
Shelf life:
5 weeks
Lactose free
Product details
TAGLIATELLE
This popular member of the tagliatelle family made from fresh egg dough is a true all-rounder. Because tagliatelle taste great in all variations - there are no limits to your imagination. We recommend a chestnut or lemon parsley sauce, for example.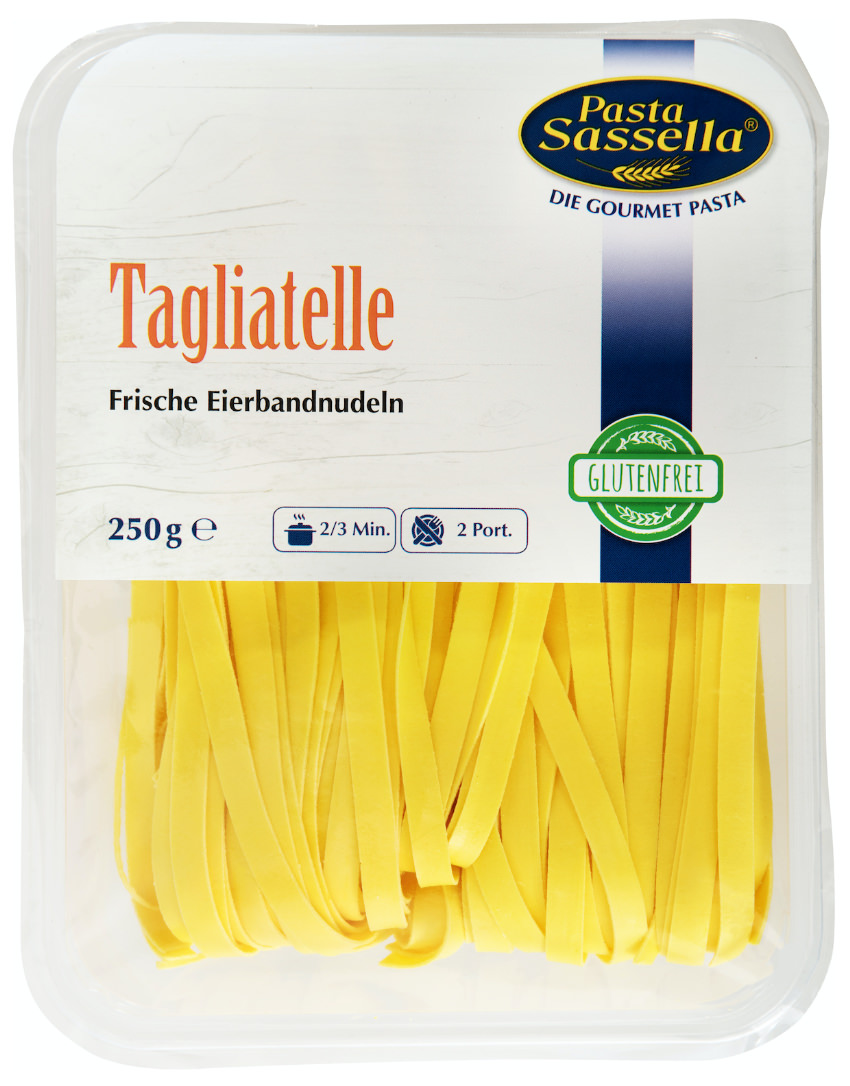 | Item no. | Packing unit |
| --- | --- |
| 51310 | 7 x 250 g = 1,75 kg in carton |
| Shelf life: | 5 weeks |
Product details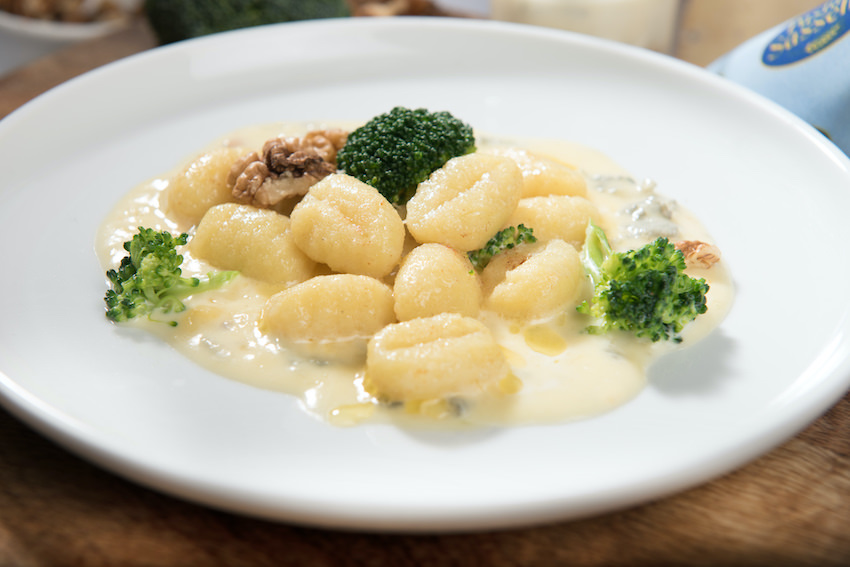 Gnocchi (potato dumplings)
The perfect alternative or just for a change!
Gnocchi are small, Italian dumplings made from potato dough, fine in taste and dense in consistency. They taste just as good with sauces or sage butter as with hearty dishes with Gorgonzola or minced meat.
If you can make excellent pasta, you also need to know what the perfect sauce tastes like with it. Sassella offers a small but very fine range of sauces to complement this.
PESTO
Pasta sauce with cheese and basil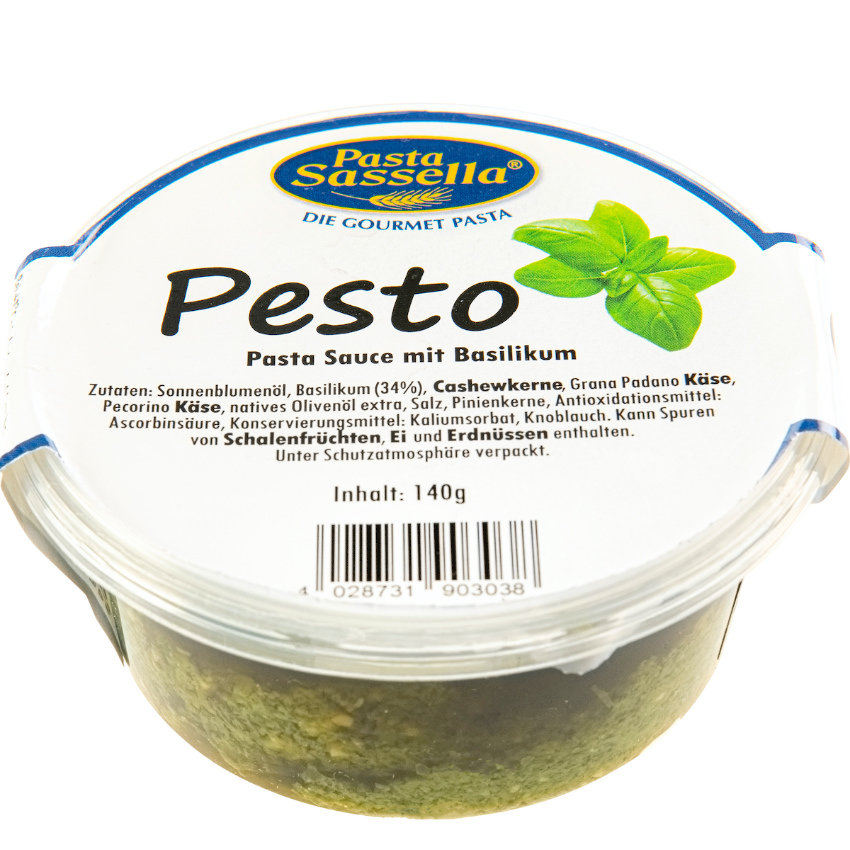 PESTO
Pasta sauce with cheese and basil